- Mathew J. Varghese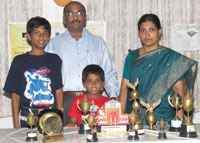 "My favourite cricketer is Ricky Ponting," says seven-year old Jerome Jorge Ebenezer. A fan of 'Batman' and 'Spiderman', the diminutive young boy like Ponting will soon represent his country at the international level, but in a different sport – Chess. Jerome is already preparing for the Boys Under-8 category competition at the World Youth Championship to be held later this year.
Training under the guidance of his coach Ebenezer Joseph - chief consultant of the Emmanuel Chess Centre in Alwarpet – Jerome will be hoping to emulate the feats of India's Chennamsetti Mohineesh and Prince Bajaj, who won the top two medals in the Boys Under-8 category at the World Championship held last year in Batumi, Georgia.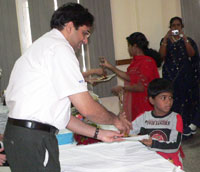 A student of Don Bosco School in Egmore, Jerome is no stranger to success. He was second at the Tamil Nadu State Under-7 Championship held at Salem last year, followed by a fourth place at the Nationals in Goa. The latest feather in his cap is the recently concluded Solar Club Children's Chess Tournament, where he finished first in the Under-8 Boys Section.
Jerome took to chess when he was five. "His elder brother and I used to play. Watching us, one day he set the board himself and started to play," says his mother. Incidentally, Jerome's elder brother Joshua is also a professional chess player. Like his brother, Jerome too is training at the Emmanuel Chess Centre (ECC). In fact, Jerome's mother Sudha is a coach at ECC.
Similar to any kid his age, Jerome always has some mischief up his sleeve. He relishes playing with other children at the Emmanuel Chess Centre and even engages in friendly banter that would even make the likes of Ponting proud. "Stop bragging," Jerome tells his opponent – a good four years his senior – when he rattles off names of various chess positions that Jerome has not picked up yet.
But put him in front of a computer screen and a new side appears. Here Jerome looks like a quiet, reserved champion, using all his energies to outfox the computer he is up against. He hardly mutters a word, apart from saying a thing or two to his mother sitting nearby.
Training for a World Championship can be tough. Fortunately, Jerome has India's first and only trainer accredited by FIDE (World Chess Federation) to guide him. Having trained over 2000 kids, Ebenezer Joseph is no stranger to dealing with young children. And he knows Jerome can make it on the big stage. "Jerome is a brilliant kid and India's best bet for the forthcoming World Under-8 Championship," suggests Joseph.
Any sportsman hates losing. For Jerome too the game is all about winning. He is not happy when the computer rates his ability to make the correct move at 88 or even 89 percent. He wants it to be cent percent, or something in the nineties for sure. Every move he makes on the chess board is with the intent of attacking the opponent, a move towards his greater scheme to win.
This 'killer instinct' does prove costly though and young Jerome is being put through the paces by coach Joseph and fellow trainers Manuel Aaron and R. Suresh Kumar at the ECC to minimise the mistakes he commits while trying to be too aggressive and too fast. "Jerome always wants to be first. But for that he needs to work hard," says his mother.
On an average, Jerome spends an hour at home playing chess when not training at the ECC. However, the time varies, as young Jerome is also fond of watching cartoons, and the World Cup craze has caught up with him too.
Chess never gets the 'big bucks' and Jerome too has no corporate sponsor to support him. However, his parents and coach are hoping that perhaps the recognition will come once young Jerome makes a mark at the world stage. Since, with the right backing, this young boy from Egmore could very well be one of India's youngest and brightest chess stars.

(The writer is a journalism student and a sports lover. You could reach him by mailing to mathew.jvarghese@gmail.com)