- Mathew J. Varghese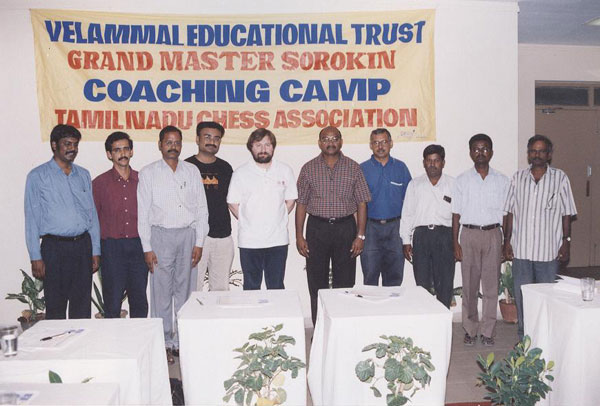 A training camp for trainers organised by Emmanuel Chess Centre.
It's always fascinating to hear about junior chess champions - the under-12s, 10s, and 8s. How can young minds think so much? Are they being pushed too early too much? Should we 'leave them kids alone?' These questions will always crop whenever one reads about youngsters making headway in the sport.
What strikes you when you first visit the Emmanuel Chess Centre at the Russian Cultural Centre is the ambience. Young kids are engaging against each other, under the close supervision of coaches and trainers. Spells of quietness will soon disappear into moments of commotion, reminiscent of a school or college classroom.
Training young kids in any sport is a tedious issue to deal with. And it more so in chess, where a coach is involved in every stage of the development of a student's game, and no other individual would know even a fraction about the child's abilities and weaknesses. The chief consultant at Emmanuel Chess Centre, Ebenezer Joseph, has dealt with young kids for over a decade now, and one can see his experience when it comes to dealing with the finer points.
For instance, I was around at an individual session Joseph was having with eight-year old Jerome - special training for the World Championships later this year. A gruelling two-hour session is tough on anyone, and even more for a young child. Jerome finished a few exercises, but his mother felt perhaps one more game would be possible. However, Joseph knew the mental strain and rightly sent Jerome home.
Joseph is India's first and only trainer to be recognised by FIDE as of now. But the same recognition for trainers has not been undertaken by the All-India Chess Federation. Coaches and trainers deal with young kids and the Federation needs to certify and supervise them.
Recognition of trainers and formation of a trainers' association are few aspects that could be looked into. Parents are easily deceived by trainers who either overcharge or undercut for the sake of having a potential 'star' under their belt, without even realising or gauging the needs of the child. Training at home, additional practice etc. are other such gimmicks that parents can fall prey for.
A trainer is a real mentor in the game of chess. In cricket, a good coach can watch a batsman or bowler play and identify areas that need to be worked upon instantly. In chess, the same may be possible only after a few months, if not years. Years of hard work can be ruined by making ill-judgement in training schedules, intensity of training etc. for a child.
India has the potential to produce many a world champion. However, these champions need to be handled well at an early stage. A good trainer could make all the difference.
(The writer is a journalism student and a sports lover. You could reach him by mailing to mathew.jvarghese@gmail.com)