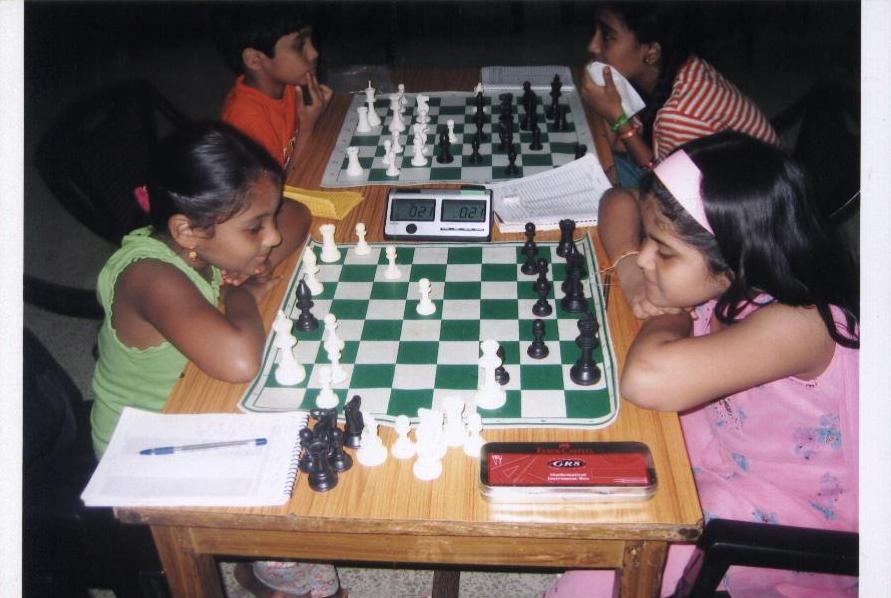 Get trained by India's first and only FIDE trainer. The Emmanuel Chess is an institute for professional chess training exclusively for young children in the age group of 5 - 16. The Academy has trained more than 2000 students in the past eleven years. It arises at providing professional chess training atmosphere and skilled expertise to nurture the young chess players to reach great heights. The latest branch has just started at the Marg School, 6 Prasad street, Velachery.
Players such as grandmaster Deepan Chakravarthy, Asian U - 14 girls Champion Rajasurya, Jerome (4th in 2006 under 7 championship), Ashwini (Girls under 8 Asia No.3 and world No. 7) and Mugil Jayavel (Boys under - 10 world No. 27) have trained at this centre. Emmanuel Chess centre has excelled in finding hidden talent and nurturing it, making children champions.
A budding star from Vellachery.
Ms. Oviya Nila, daughter of Mr. T.R. Muralidharan studying at Akshayah School is being trained at the new branch of ECC in Vellachery.
Why Chess ?
Chess as a game is today increasingly recognized as a instrument of teaching special skills in an enjoyable way. Children who regularly play chess have excellent decision making and logical thinking, these skills are useful to them throughout their life to be successful, wise, mature adults. Chess also has an impact on a child's academic performance, improving their memory skills and concentration. Many chess champions are also toppers in their classes at School. Chess teaches time management, enabling a child to learn to plan and balance their activities in today's modern world. Last but not the least, chess teaches a child perseverance and determination. It teaches a child to give in their best and never give up.
What is so special at Emmanuel Chess Centre.
Emmanuel Chess centre has perfected their strategy of teaching chess over the last 11 years. Our systematic methods make chess interesting and enjoyable to a 5 year old as well as challenge and train world champions to further develop their skills. Our panel of trainers is lead by India's first and only FIDE trainer, accredited by FIDE trainer Academy in Berlin, Germany and World Chess Federation.
Chess training at the ECC is personalized. Every child is special, their needs, and skills are individually catered to. ECC also provides access to any resources the child may need to further improve their chess skills like chess CD's and chess books. Our chess centers provide a place where children with a passion for chess can meet to play and learn together.
So why wait any longer. Come and see for yourself chess at Emmanuel chess centre . You can visit us in Marg School, 6 - Prasad Nagar, Vellachery, on Mondays and Wednesday s between 5:30 - 7:30 p.m.